Stilo Fetti offers customers an accurate customization service on products sold.
Two pantographs are available in the shop, one manual and one computerised, to make unique pens for gifts and presents.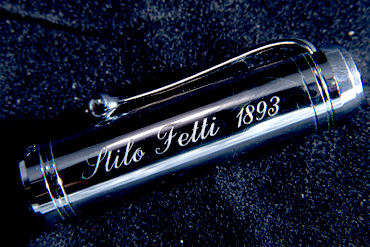 Make your pen unique with initials, signatures, dates, symbols, and a wide choice of fonts!
Perfect for corporate supplies, with the possibility of personalizing your company logo.
Engraving is only possible on certain pen models and based on available material and space.
Technical specifications:

| Brand | Engraving position | Models | Character length (Spaces included) | Processing times |
| --- | --- | --- | --- | --- |
| Visconti | Cap and Barrel | All | 2 | 1 day |
| Aurora | Cap | All | 6 | 1 day |
| Graf Von Faber-Castel | Cap | Specific templates only | 6 | 1 day |
| Pelikan | Cap | Specific templates only | 6 | 1 day |
| Parker | Cap | Specific templates only | 6 | 1 day |
| Montblanc | Clip | Specific templates only | 3 | 2 days |
| Montegrappa | Clip | Specific templates only | 3 | 3 days |